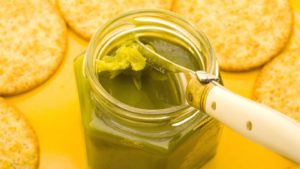 I'm a firm believer that every Christmas requires some staples for the meal to be considered a success: steak, mashed potatoes, and stuffing. Moving beyond those three dishes, I believe Christmas will still feel like a complete meal even with a rotating collection of appetizers, side-dishes, and desserts. Today, we're going to take a look at some cannabis-infused desserts made with Magical Butter and Magical Cooking Oil.
Before we proceed, I'd just like to state that you should ONLY experiment with these recipes if you live in a state where cannabis is legalized for recreational use, or you are prescribed medical marijuana. Please, please, PLEASE do not break the law and then come find me in the comments after getting in trouble, saying something like 'Cass told me to do it!' If weed is against the law in your state then don't break the law, it's as simple as that.
I have been wanting to talk to you bros for quite some time now about the Magical Butter MB2e, the easiest and most effective way to cook marijuana edibles. Thanksgiving felt like the perfect opportunity to showcase just how easy it is to make mouth-watering desserts from the comfort of your own home. And to illustrate how easy it is to make these delicious weed edibles with the Magical Butter I've gone ahead and cooked my way through three recipes (Magical Butter's Bangin' Brownies, Fruity Pebble Rice Krispie Treats, and Pumpkin Crazin' Cookies) to show you bros how effortless it can be.
First things first, even though the Magical Butter MB2e (Buy It Here: $174) makes it easier than ever before to cook heady edibles at home (think of it like an 'Easy Bake Oven For Weed') you still need to decarboxylate your marijuana before making the base recipes (Magical Butter, Magical Cooking Oil, Magical Tincture). 'Decarboxylation' might sound like an intimidating term, but all this means is you need to take your buds/botanicals and put them in the oven at 250-degrees for 25-to-35 minutes. You can see a video on how to do that here if you're still iffy on this step.
Recipe 1: Magical Butter Fruity Pebble Rice Krispie Treats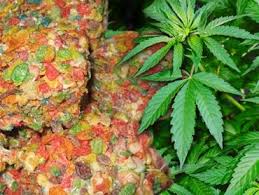 I had absolutely no idea how easy it was to make Rice Krispie Treats until I attempted to make this recipe yesterday. First, I made the Magical Butter using my MB2e. This is a base recipe which takes 2 hours to prepare the Magical Butter (main ingredient in the Rice Krispies) but the MB2e does all the work. Preparing the Rice Krispie treats actually took me less than 15 minutes, and then they sat in a pan to cool for an hour. To make these magical Rice Krispies I used 5 tablespoons (75g) of the MagicalButter, 5 cups of Rice Krispies + Fruity Pebbles (because I couldn't find Fruity Rice Krispies), and one bag (12oz) of marshmallows.
Instructions:
1. In a large saucepan on medium-low heat, melt your MagicalButter.
2. Add the marshmallows, and stir to coat them with the melted butter.
3. Once the marshmallows begin to melt, stir constantly until the butter and marshmallows are completely mixed.
4. Pour the cereal into the pan, and stir to combine.
5. Line an 8 x 8 inch/20 x 20 cm pan with parchment paper; then pour the mixture into the pan, and spread evenly.
6. Let your Rainbow Warrior Rice Crispy Treats sit for least 1 hour. Remove them from the pan, cut them into 2 x 2 inch/5 x 5 cm squares, and enjoy!
Recipe 2: Pumpkin Crazin' Cookies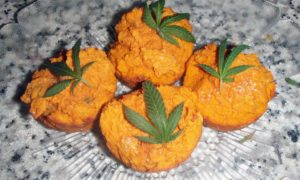 If you are someone who doesn't particularly love marijuana edibles or live in a state where cannabis isn't legal yet then I'd recommend cooking these Pumpkin Crazin' Cookies without the Magical Cooking Oil because they are THAT delicious. The added All Spice and Cayenne pepper give them a bit of a kick.
Unlike the Magical Rice Krispie Treats above which are made with MagicalButter, for this recipe you will be using the Magical Cooking Oil. This is another base recipe from the Magical Butter MB2e, and just like with the MagicalButter you need to decarboxylate your cannabis beforehand, but the oil only takes one hour to make whereas the butter takes two (again, the MB2e does all of the work for you). Once you have your Magical Cooking Oil then you're ready to bake some of the tastiest cookies ever.
Ingredients
½ cup/120 ml MagicalButter Coconut Oil
12 ounces/340 g high-quality white chocolate chips
1 cup/240 ml fresh roasted pumpkin purée (or canned pumpkin)
1 cup/240 ml all-purpose flour
¾ cup/180 ml Sugar in the Raw
⅔ cup/160 ml old-fashioned oats
½ cup/120 ml dried cranberries (such as Craisins)
1 tablespoon/15 ml ground cinnamon
1 teaspoon/5 ml pure maple syrup
1 teaspoon/5 ml vanilla extract
½ teaspoon/2½ ml baking soda
½ teaspoon/2½ ml baking powder
½ teaspoon/2½ ml fine salt
¼ teaspoon/1¼ ml ground allspice
⅛-¼ teaspoon/⅔-1¼ ml cayenne powder
Recipe Instructions (via Magical Butter)
1. Preheat your oven to 325°F/165°C.
2. Line 2 large baking sheets with parchment paper.
3. In a medium-sized mixing bowl, combine the flour, oats, cinnamon, baking soda, baking powder, salt, cayenne, and allspice. Stir until all ingredients are thoroughly mixed.
4. In a separate large mixing bowl, whisk together the sugar, pumpkin, oil, maple syrup, and vanilla.
5. Gradually fold in the dry ingredients with the wet ingredients, about ⅓ at a time. Then add the cranberries and white chocolate chips, combining them completely.
6. Use a heaping tablespoon as the measure for the cookies. Space them about 2 inches apart, and bake them on the center oven rack for 25-27 minutes.
7. Cool your Pumpkin Crazin' Cookies on a plate or cooling rack, serve, and enjoy!
Recipe 3: Magical Butter's Banging Brownies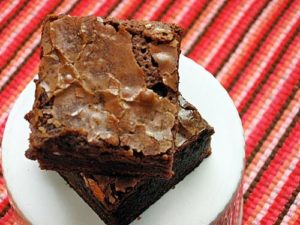 The Magical Butter Banging Brownies are your quintessential 'weed edible' because brownies are as delicious as they are easy to make. For this recipe, you will once again be using the Magical Butter made in your MB2e (base recipe HERE). I came across this recipe on 420Magazine, so I wanted to send them a big shoutout for this delicous concoction!
Ingredients:
— 1 Egg
— Brownie Mix (Grab a box/bag with at least 1/2 cup of oil required.)
— Whatever the recipe calls for in butter or oil we like to use MagicalButter's Magical Butter or Magic Oil.
— 2 Tablespoons Soy Lecithin Granules
— Mixing Bowl
— Wisk/Mixing Spoon
— Cupcake Tray (easiest way to make consistent size)
Recipe Instructions:
1. Crack the egg put it in the mixing bowl
2. Add MagicalButter's Magical Butter or Magic Oil
3. Open Brownie mix add to mixing bowl
4. Add 2 tablespoons of Soy Lecithin*
5. Use Wisk/Mixing spoon mix thoroughly
6. Fill brownie tray half full
7. Place tray in oven at 240 degrees Fahrenheit
8. Cool for 5 minutes enjoy your brownies hope they are Glorious